Ever found yourself searching for a pencil and paper to sketch out a quick idea or diagram? And then needing to show it to people or keep it for later reference once you've finished? SketchTo, a new app from The Infinite Kind, makes keeping track of your ideas effortless. It's like digitally enhanced paper onto which you can add photos, maps, web pages, screenshots, text, and mark them up with freehand drawing; and just like with SyncSpace you can zoom, pan and rotate the infinite canvas too. SketchTo allows you to keep an entire compendium of sketches in your pocket!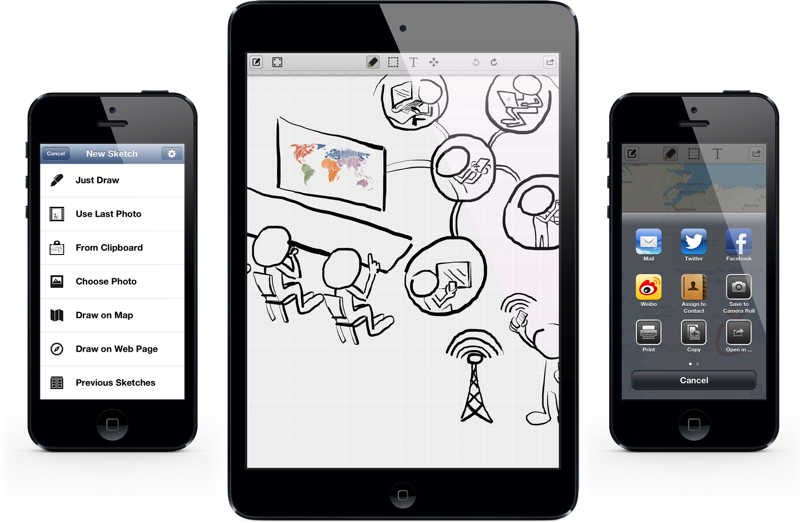 SketchTo is the most convenient way to express your ideas and share them with friends, family or colleagues. Think of it like Drafts for drawings: Quick capture, flexible output, easy storage.
With a workflow that makes it a cinch to create new sketches, you can draw freehand, doodle on your photos, annotate screenshots, maps and even entire web pages; all with a fully-fledged tool set, on an infinite canvas that can be zoomed, panned and rotated.
The fun doesn't stop there! When you're done sketching you can share your masterpiece on Twitter, Facebook or Campfire, distribute it via email, send it to other apps, or even print it.
Powered by the same cutting-edge vector drawing engine in SyncSpace, everything you draw in SketchTo looks sharp; fuzzy edges have no home here. You can scale a sketch to any size and it'll always look as crisp as the original.
No longer will you have to resort to using napkins or the back of an envelope; use SketchTo and have easy access to all of your ideas and notes.